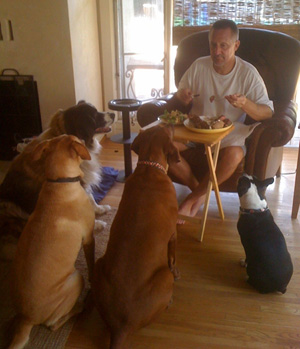 If you know of anyone thinking of Buying or Selling Real Estate....Please remember me.
(I have a lot of mouths to feed)
Thirty years is a long time to be in any profession, especially real estate. In March of 1989 Bill Toth joined the other 332,780 California licensed Realtors who vied to sell median priced homes of $193,557 to the 19% of California buyers who could actually afford them. Bill never looked back.
"Real estate is my life," states Bill. "Where else can you meet such a great, diverse group of individuals and help them attain their goals of owning, selling or renting a property?" His enthusiasm for this business is obviously very infectious. His son, Christopher Toth, is Bill's in-house lender (House America Financial) and Bill's daughter, Stephanie, works at All Broker's Escrow, a well respected Burbank escrow firm. Together, their teamwork makes good things happen!
Bill was named Rookie of the year at Ramsey Shilling in 1990, became a Broker in 1994 and opened First Class Real Estate. Six months later Bill signed a franchise agreement and opened Fred Sands First Class Real Estate in July. It expanded to 30 agents in just six months and kept on growing and growing! Bill was President and Broker of Record plus top producing sales agent from 1994-2001.
In February, 2001, Coldwell Banker purchased the 100 agent company from Bill (including escrow and lending divisions) and he stayed on as a Sales Agent for 3 years where he was the top producing sales agent, averaging 65 closings per year!
In early 2004 Bill opened Bill Toth Real Estate and in November 2006 added "and Associates" to the company name to include the 35 agents who joined him in selling properties in Burbank, Glendale, Toluca Lake and many other communities.


In January of 2016, the company name had boomeranged to First Class Real Estate. "That name indicates our true goal of giving First Class Real Estate service to all our clients," Bill concludes.


Bill recently moved his Real Estate company from 4417 W. Magnolia Blvd to 2926 W. Magnolia Blvd at the corner of Magnolia and Niagara in the heart of Magnolia Park. Bill's son Chris designed the ultra sleek and modern building. Pictures of it can be found on the homepage under "Our New Location".


When Bill isn't listing, selling, training, coaching, and working hard chasing the dream, you will find him meeting friends at Joes Great American Bar & Grill, and hanging out with his three dogs, "MLS", "REO" and "Title."
So, 'for a change of PLACE' give Broker/Owner Bill Toth a call at 818.434.2110.